The folks at BX3 Oil Field Supply consider themselves to be the Relentless Problem Solvers. BX3 Oil Field Supply, also known as Taylor Rental, opened its first franchise in April, 2006 in Susquehanna County. As the natural gas industry began to flourish, so did increased business opportunities for Taylor Rental.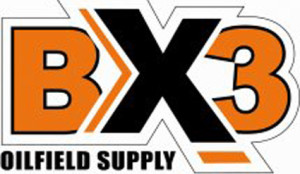 They began servicing gas industry related companies in Susquehanna, Wyoming, and surrounding counties. Many new products and equipment rental services were in high demand at that time, so Taylor Rental capitalized on this opportunity and the oilfield supply business was born.  In 2013, the company grew to 30 employees and relocated the Tunkhannock store to a newly renovated, larger location to better serve customers.
Their main goal is to continuously satisfy customers by creating business solutions and providing exceptional customer service.  Taylor Rental BX3 has grown each year because of hard work, dedication, and passion for the business.
Who tweets for @BX3OilField?
Bx3 has just begun to Tweet.  We are in the process of building our social media network.  Twitter is our first attempt other than our website.   I, Beth Bevan will be handling all tweets.  My title is Human Resources and Public Relations Manager. There will be several other employees that may tweet as well.  They are Diane Dean, Inside Sales & Marketing Specialist, and Jessica Turner, AR & Executive Administrative Coordinator.
What role does Twitter have for @BX3OilField?
We are hoping that twitter will play a large role in our social media network.  There is so much information to share that it just makes sense to be a part of the fun.  BX3 is very active in the communities in which we serve.  We enjoy supporting community endeavors and non-profit organizations.  We hope to be able to support & promote these projects through our social media involvement.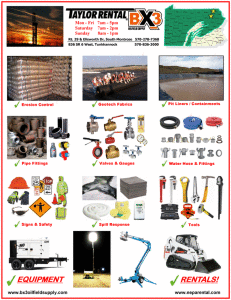 What is a fun fact about BX3 Oil Field Supply?  When originally created, the name BX3 stands for three first names that start with the letter B.

What do you think is the most interesting aspect of @BX3OilField?
We are The Relentless Problem Solvers.  When customers have a need, we work very hard to fill that need. If we don't have it, we will find it for you.  Customer service is our #1 priority.  We want to be your first and last stop on the path to fulfilling all of your business needs.
What are your most popular products? 
Geotech fabrics, pit liners, erosion control products, pipe fittings, valves & gauges, water hoses & fittings, FR & safety clothing, spill response products, and tools.
How does BX3 Oil Field work alongside the oil and natural gas industry? 
We supply many of the products and services needed to construct, run and complete site locations.  We supply generators, lights, heaters and excavators along with erosion control products as well.    We will help to provide whatever is needed to get the job done accurately and safely. We are continuously seeking new products and services along with asking our customers about their specific needs.
You can also visit their two convenient locations:  at the corner of Route 29 & Ellsworth Drive in South Montrose, PA (570) 278-RENT & 123 Wayne Lane, Route 6 West in Tunkhannock PA (570) 836-3000 or call our toll free #  1-800-640-7817
Don't forget to follow them on twitter @BX3OilField!