In the past decade, Pennsylvania has grown to be the second largest producer of natural gas in the nation. The rise in production not only helps nourish increasing consumption, but it has positive impacts on today's workforce, environment, and economy. In fact, according to the 2019 U.S. Energy and Employment Report, the traditional and energy efficiency sectors added 152,000 jobs to the market in 2018, contributing to an approximate 6.7 million jobs in the traditional energy workforce.
Think About Energy briefings work to bring individuals together to talk about these emerging opportunities and how they can benefit communities. Each event is attended by new and existing entities in upstream, midstream, and downstream companies as well as legislators, local end users, students, and trade associations. Since the start of the Think About Energy series in 2013, 14 events have been held in various regions and universities in Pennsylvania.
Last week, Think About Energy briefings were held in State College and Fogelsville to discuss business development opportunities, STEM outreach, state energy public policy, and much more.
Thursday's event in Fogelsville featured Allentown and Lehigh County Representative Peter Schweyer as a keynote. He spoke about the valuable knowledge he has gained about the natural gas industry throughout his term. "We need to get out of our comfort zone and look on how you are going to improve our communities," said Schweyer. "One of the first things I did as a newly elected official was visit a well site."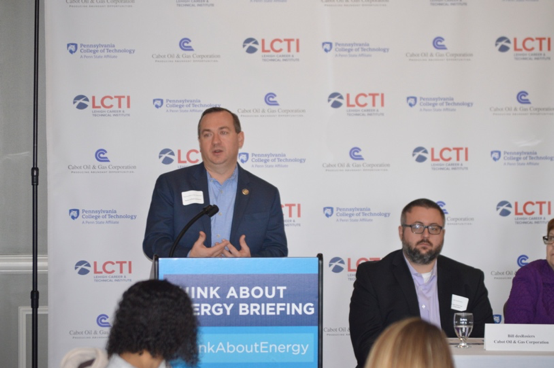 Other speakers at the event included Bill desRoisers, External Affairs Manager at Cabot Oil & Gas Corporation; Grace Loeffler, Director of Academic and Special Programs at Lehigh Career & Technical Institute; and Dr. Brad Webb, Assistant Dean from the School of Industrial Computing & Engineering Technologies from the Pennsylvania College of Technology.
The briefing had a heavy emphasis on how technical institutions and programs are taking advantage of the natural gas industry and providing a unique and practical STEM education to students.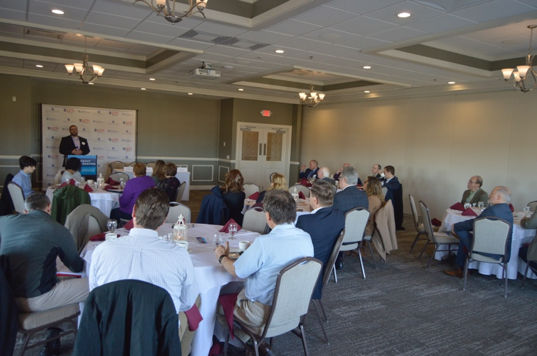 As a strong supporter of workforce development in Northeast Pennsylvania, Cabot frequently partners with schools to promote this education through programs such as the MOLU and Educational Improvement Tax Credit (EITC) scholarships. "We saw the need within our industry and are heavily invested in education. Currently we support over 20 career and technical institutions," explained desRosiers.
One of these schools is the Lehigh Career and Technical Institute. At the briefing, Loeffler spoke of the importance of partners such as Cabot that help students get the education they deserve through scholarships. "These partners help to prepare the workforce for tomorrow," said Loeffler. "Scholarships will help ensure that all students, but especially those from low-income households, have the uniforms and materials they need to succeed in LCTI's career and technical education programs."
Throughout the county, schools are using these resources and making valuable community partnerships driven by the industry. For example, the Pennsylvania College of Technology works to prepare students for today's workforce through its partnership with Shell Chemicals. "Our partnership enables us to prepare students for careers as a direct result of the natural gas industry. The Shell Polymers Rotational Molding Center of Excellence is one of the finest technology centers of its kind in North America featuring new equipment," he expressed.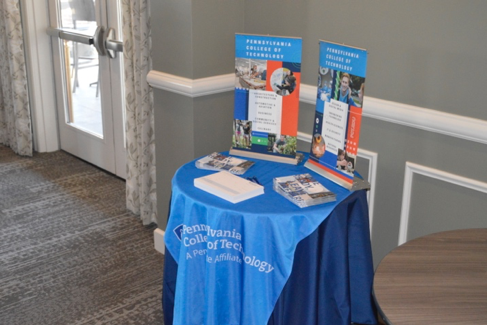 Cabot proudly sponsors Think About Energy Briefings along with energy companies such as UGI, UGI Energy Services, Borton-Lawson, and Williams with the mission of spreading natural gas resources and opportunities across the region and state. With the help of these organizations, Think About Energy is able to make events free for all attendees. If you are interested in learning more about how natural gas and the energy industry is impacting your region, contact Think About Energy about bringing an event to your town.