This Friday we are focusing on the
Quality Deer Management Association
(QDMA). Cabot has worked closely with the QDMA in restoring land in Susquehanna County. 
Tanner Tedeschi
 described the QDMA for us:
QDMA is a non-profit deer hunting and wildlife conservation organization dedicated to ensuring the future of white-tailed deer, wildlife habitats and our hunting heritage. QDMA promotes sustainable, high quality white-tailed deer populations, wildlife habitats and ethical hunting experiences through education, research, hunter recruitment, policy action and more.
Are you the only person that tweets?  How did you decide to start tweeting?

The QDMA resides in all 50 states and consists of over 50,000 members (read about QDMA's history here).  What does the future hold for the Association?
QDMA is celebrating its 25th Anniversary in 2013. It's been a great 25 years and it's thrilling to think about what the next 25 years will hold for the organization.  Even more immediate is how exciting it is to think about how much QDMA can grow in just the next couple of years.
What role does Twitter have for @TheQDMA?
Twitter has multiple roles for QDMA. Primarily, we use Twitter to create awareness of our organization and what we do. But we also use it as an avenue for sharing content – not only our own articles, photos and videos, but also content from others within the industry. Twitter, and all social media for that matter, is great because it also gives us a chance to interact with followers. Twitter is a good source for being able to keep up with the latest and greatest from our sponsors, partners, supporters and members.
The QDMA has secured a sustainable future for the white-tailed deer.  Why is this important?
Whitetails are the single most important game animal in the North American hunting industry, so we can't take it for granted. Whitetails now face numerous threats, but QDMA is working to ensure whitetails remain a treasured, sustainable, pubic resource for generations to come.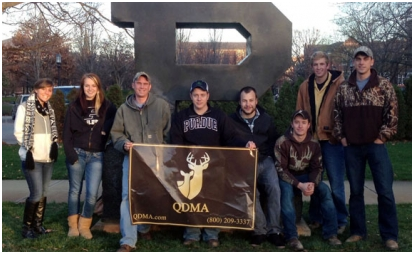 A student branch of the QDMA
What do you think is the most interesting aspect of @TheQDMA?

The most interesting aspect of our Twitter account would be that it is a great source for white-tailed deer-related content. We tweet facts about whitetails, deer hunting, habitat management, herd management and much more — often with links to articles backed by research and/or written by experts in deer and habitat management.
Another interesting aspect of our Twitter account is #RetweetRewards. Usually run on the first Monday of every month, we feature an item from our store, The Shed, in a tweet with the #RetweetRewards hashtag. Followers who retweet that post are entered into a drawing to win the featured item.
Where can we go to learn more about the Quality Deer Management Association?