Stephanie Paluda
of
Pennsylvania's Independent Oil & Gas Association
took some time to speak with us about Pennsylvania, industry stories and Twitter's convenience.  You can follow them on Twitter,
here
.
The Pennsylvania Independent Oil and Gas Association of Pennsylvania (PIOGA) is the principal nonprofit trade association representing Pennsylvania's independent oil and natural gas producers, marketers, service companies  and related businesses. PIOGA member companies drill and operate the majority of the state's crude oil and natural gas, including the Marcellus and Utica Shale plays.
PIOGA serves as a clearinghouse for our members' awareness of issues impacting their businesses. Through PIOGA communications, newsletters, e-mails and meetings, the industry becomes aware of changes in proposed regulations early enough to have some response to the government agencies promoting these changes before they become "carved in stone." PIOGA staff and committees work with regulators to achieve workable solutions to problems. PIOGA works to inform lawmakers and help develop legislation that is hopefully more meaningful and less onerous for our industry. The association is member-driven.

The issues that we monitor are those with which the members are most concerned. Through our committee structure, companies have a mechanism to share ideas, concerns and solutions. Working together, we help members accomplish that which they may not be able to achieve alone.
Are you the only person that tweets for PIOGA?I am the only staff member that tweets for the organization. I decided that it would be a fast, fun way to increase our online presence and help to share good information.
Why is it important for an association like PIOGA to promote PA as an attractive state for oil and gas investment?Oil and gas has been an important industry for Pennsylvania for decades. As we have seen the unconventional industry take off in the state, it is so important to do our part to ensure that companies are able to operate economically in the state so that the industry can continue to provide good, family sustaining jobs for Pennsylvanians and continue to help local businesses succeed and thrive in PA.
What role does Twitter have for @PIOGA4PA?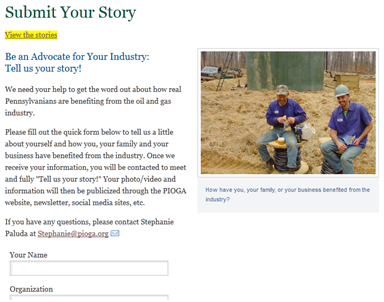 Twitter is a way for us to easily share news and events with our 650+ followers. It only takes a minute to tweet and it's a great way to get information to the general public who may be interested in the oil and gas industry.
PIOGA features a section on its website entitled, "Tell Us Your Story".  What is one of the most interesting stories you have heard?
84 Lumber Company has been one of the most popular "Tell us Your Story" pieces. With the influx of the oil and gas industry to the area, 84 Lumber quickly realized that they needed to evolve and cater to the industry. That's why they created 84 Excavation, Construction, and Energy Supply Divisions.  Their revenue has now grown exponentially: growing eight fold from 2011 to 2012 and they are expecting a 30% increase in 2013.
Where can we go to learn more about the PA Independent Oil & Gas Association?