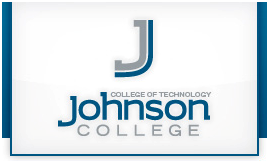 For this week's #FF we are focusing on 
@JohnsonCollege
which was founded in 1912 and has since continued to grow and to provide quality education. 
Johnson College
 is a private, two-year college that offers 14 degree programs of study. We spoke with
Heather Davis
who told us a bit more:
Johnson College delivers industry-focused learning in a caring environment, which develops graduates prepared to enter into or advance their careers.
How did you decide to start tweeting?
We decided to start tweeting in order to reach more people in the community who might not know about Johnson College and what we have to offer.
How long have you been tweeting?
Johnson College has been on Twitter for about 3 years now.
Your history describes how Johnson College was founded in 1912.  A century later, Johnson College has expanded greatly — How do you think Orlando S. Johnson would view Johnson College today?
In 1912, Orlando S. Johnson founded a school "where young men and women can be taught useful arts and trades that may enable them to make an honorable living and become contributing members of society." 100 years later, the Johnson College community remains faithful to this mission. Over the years, the College has served Northeastern Pennsylvania by providing programs of technical education that meet industry needs. This has led the College to be one of the region's premier technical colleges, offering associate degrees in 14 program areas. Students receive hands-on training which benefits them in the workforce and also allows them to give back to their community — Mr. Johnson would be proud!
What role does Twitter have for @JohnsonCollege?
We use Twitter to announce events, share good news, and interact with followers.
What are some of Johnson College's greatest accomplishments?
We recently unveiled our largest project to date – our new Health Science Technology Center. To finance this new building as well as potential new degree programs, Johnson College is raising money through its first-ever Capital Campaign, the Next Century Campaign. The total goal is $4.5 million. To date, approximately 80% of the goal has been raised, which includes a $1.5 million Redevelopment Assistance Capital Program matching grant from the Commonwealth of Pennsylvania.
What do you think is the most interesting aspect of @JohnsonCollege?
We love the in-the-moment aspect of the interaction. It's exciting to get RTs and @ replies!
Students studying at Johnson College
Where can we go to learn more about the Johnson College?
To learn more, visit our website, Twitter or call 1-800-2WE-WORK.