Most everyone is familiar with "going pink" to promote breast cancer awareness – but a 200 pound hot pink drill bit? That's one way that
Baker Hughes
has decided to partner with the
Susan G. Komen Foundation
– by creating 1,000 hot pink drill bits for their "Doing Our Bit for the Cure" campaign this October.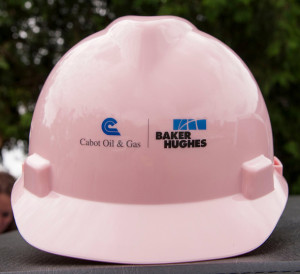 Professional sports teams are often thought of as wearing pink in October, and Baker Hughes has taken that idea and extended it to their drill bit program. They've partnered with the Susan G. Komen Foundation – which gives them the ability to use the pink ribbon and the specific shade of pink – in an effort to generate discussion about breast cancer from their employees and customers.
Last year 500 hot pink bits were sent out world-wide to customers along with information about breast cancer. This year the program is growing even larger – with 1,000 bits scheduled to be painted and sent out.
To help promote the Doing Our Bit for the Cure program, Cabot teamed up with Baker Hughes to send one of their bits down-hole for video and photographs. The Kymera bit was filmed at one of our 10-well locations in Susquehanna County and we made sure everyone involved had pink swag – shirts, gloves and even hard hats!
The footage captured will be edited and used to promote the official launch of the program in October but here's a sneak peak filmed by local news station WNEP:
Understanding risk factors and early detection are two major points that Susan G. Komen tries to stress to women and men. Here's a quick excerpt from their website:
Anyone can get breast cancer. For example, did you know…
the older a woman, the more likely she is to get breast cancer?

white women are more likely to get breast cancer than women of any other racial or ethnic group?

African American women are more likely to die from breast cancer than white women?

men can get breast cancer? About one percent of breast cancers in the U.S. occur in men.
Make sure you have the facts – visit the Susan G. Komen website for more information.