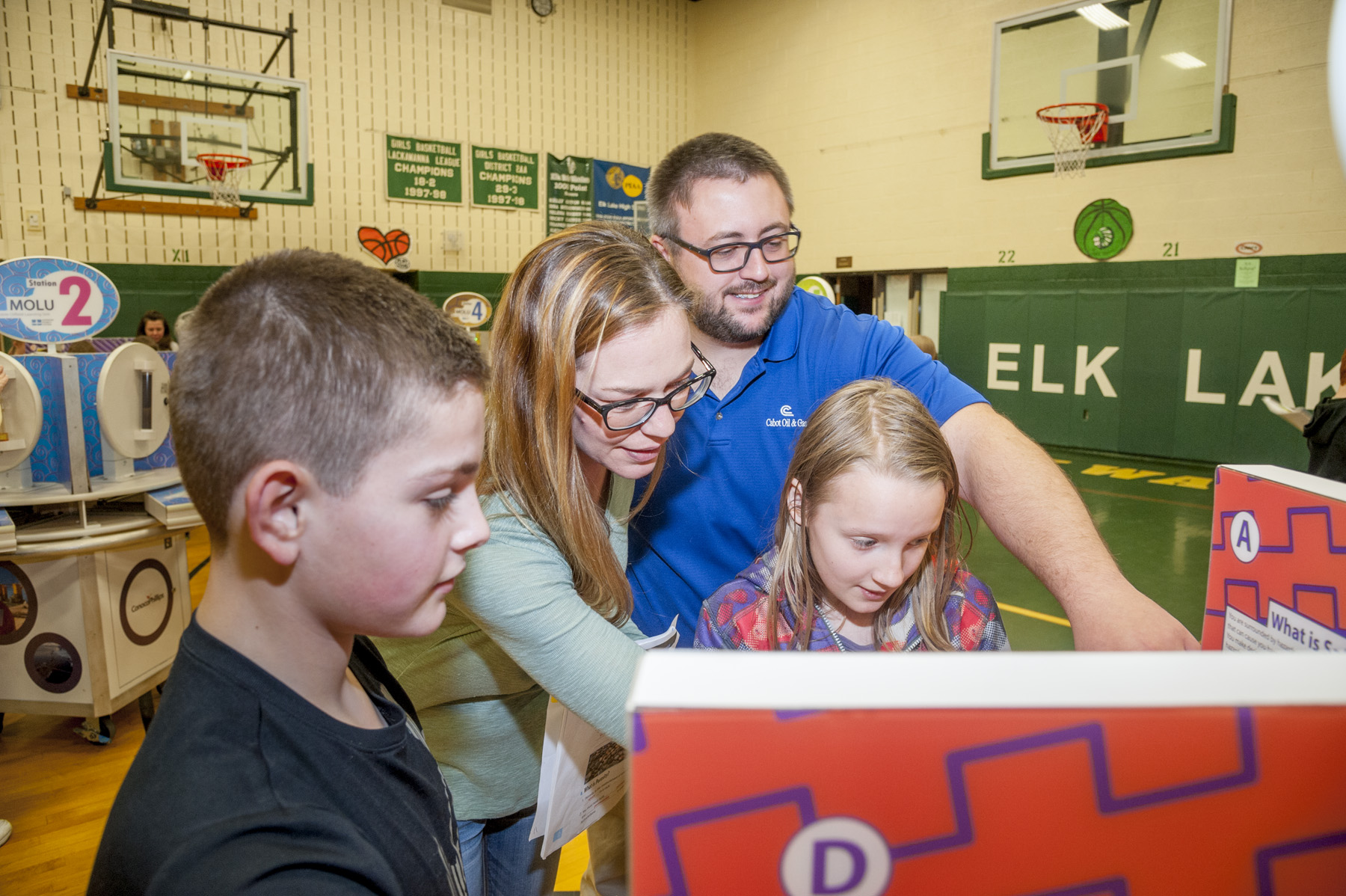 The MOLU, or Mobile Oilfield Learning Unit, is a traveling exhibition run by the Oilfield Energy Center that teaches students in grades 5-8 about science, technology, and careers related to the oil and natural gas industry through hands-on, educational activities.
For the last two years, Cabot, Williams and Southwestern Energy sponsored the MOLU as it traveled to Pennsylvania and visited over 30 different schools across the northeastern part of the state. Due to its popularity, Cabot joined Williams, Southwestern Energy, Shell, and Schlumberger to help fund the creation of a new MOLU, called the MOLU III, to be permanently stationed in Pennsylvania and used in schools throughout the northeast. More recently, the MOLU III traveled to The Linsly School in West Virginia.
How It Works
The MOLU has six mobile units comprised of four stations each, adding up to 24 educational activities for students. Students travel around in pairs, spending a few minutes at each station learning, filling out accompanying worksheets and exploring the hands-on materials – like a robotic arm and a microscope. Each session is around 90 minutes long, with pre- and post-visit materials to keep students engaged with what the MOLU had to offer after it has left their school.
Topics we explore, along with the standards covered during a MOLU visit
Using the MOLU, students learn about many topics related to the natural gas industry like geology, engineering, physics, chemistry, history, environmental studies, and more. Seeing how oil and natural gas are a part of products used in everyday life often surprises students, while the hands-on activities encourage interest and keep them engaged.  The MOLU activities correlate with Next Generation National Science Standards and are based around the Science, Technology, Engineering, and Math (STEM) subjects. The activities illustrate concepts that are new to students – porosity, density, distillation, thermal energy – in a way that engages students in a tactile way.
The goal of the MOLU is to not only educate kids about the oil and natural gas industry but to encourage interest in  STEM-related career fields as well. Stay tuned for more information about the MOLU in the future!
The MOLU III needs sponsorship!
Need more info? Click here.
For more details about sponsorship, and how to get the MOLU to a school near you, please contact Oilfield Energy Center at 713-840-1753 or email at oecmolu@oceanstaroec.com