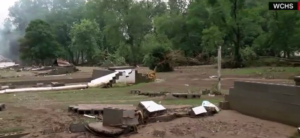 At the end of last month, several West Virginia counties were devastated by floods caused by heavy thunderstorms. Authorities have stated 23 people lost their lives – and warn this number may rise in the coming weeks – and thousands are left homeless after the complete devastation of homes and businesses.
Many businesses and individuals have offered assistance, including a group of oil and natural gas companies who have pledged more than $350,000 to the American Red Cross (ARC) to help with the relief efforts. Cabot has joined these companies by donating $25,000 to the ARC of West Virginia and is hosting donation drives at all of its West Virginia offices and in the Pittsburgh office.
The need for volunteers, equipment, supplies and funding will be great over the next few weeks as the relief efforts work to help the thousands displaced by the flooding.
According to the ARC West Virginia Region: "More than 700 American Red Cross workers have provided over 1,500 overnight stays in shelters, facilitated the delivery of more than 65,000 meals and snacks and distributed more than 6,000 cleanup kits to those impacted by last week's devastating flooding."
If you would like to make a personal donation toward these efforts, you can do so here by selecting "Use my donation to support West Virginia floods": https://www.redcross.org/donate/donation. You can also text the word WVFLOODS to 90999 to make a $10 donation.
Additionally, if you are close to or live in West Virginia, the ARC West Virginia Facebook page which continually posts information about where donations can be dropped off, ways to help , and the location of the Red Cross Service Centers for those impacted by the flooding.
Our thoughts and prayers go out to all affected by these floods.