Following the delivery of welding materials to Columbia-Montour Area Vocational Technical School, Cabot Oil & Gas Corporation and Williams once again partnered to supply another Pennsylvania vocational school, Northumberland Career and Technology Center, with much-needed supplies.
The donation included approximately 200 feet of pipe and associated steel joints and pipe fittings. These materials will be used to help provide hands-on training for students, many of whom are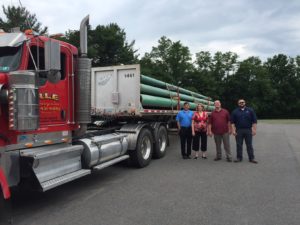 preparing for potential careers in Pennsylvania's natural gas industry. Approximately 25 students are enrolled in the welding program this coming year.
"Now we have supplies we would not be able to purchase," said the school's Administrative Director James F. Monaghan, "and that is saving taxpayers money."
"We have a strong partnership with Cabot," Monaghan said of how the donation came about. "Cabot worked with Williams, its pipeline partner, to arrange everything here today. "
Monaghan said Cabot started working with the school by providing scholarship money that is used to purchase equipment or tools for students in the various courses of study at the school, based on financial need. The money could go for equipment for cosmetology students, tools for those studying carpentry or a chef's coat for culinary students. "This year we were eligible for $10,000," the director said. "We utilized the 10,000 to benefit our students. Next year the allocation is $15,000."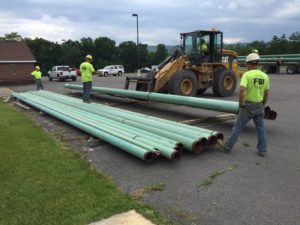 Northumberland County CTC officials have discussed opening the welding program for adult education at night. Even some with welding experience who don't have experience with pipes would benefit from the program by improving their skills to work in the gas industry. This donation will go a long way in expanding the program to adult learners.
Shamokin Area, Mount Carmel Area and Line Mountain school districts send students to Northumberland County CTC.