As a responsible corporation, Cabot believes that educating the public about oil and natural gas production is part of our duty. When we hear concerns from the public regarding our operations, we do our best to respond with factual information. Transparency and accuracy, however, is a two way street.
Several people noticed a Facebook post by anti-natural gas activist Bill Huston from Binghamton, NY, containing egregious lies about a Cabot water truck. Cabot does not usually address falsities from out-of-state activists; however, we see this as an educational opportunity to clarify our responsible stormwater management and safe trucking practices with a little research.
Here is an excerpt from Huston's post, which also contained other inaccurate claims:
"Nope. Nothing unusual here. Just an ordinary July 4th, when an 11 BBL GDS (Cabot) "Residual Waste" truck somehow lost his load 30 min after driving up to Costello #2 on top of the hill. Note tag axel is up. He's a lot lighter now! GDS truck #827. National Response Center (NRC) and PA DEP called."
The truck Huston highlights is making a routine stop at the Costello location to pick up stormwater that had collected inside of the containment area around the produced water tanks.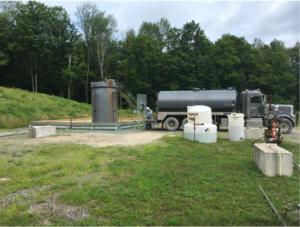 The truck driver used the pump in the back of the truck to vacuum up the stormwater into the trunk's tank. The driver then filled out a ticket to record how much water he had collected and indicated where it was going before leaving the site.
As for Huston's conclusion that the truck was loaded when it arrived and unloaded ("lost the load") before leaving because the tag axle was up when leaving location is false.
Cabot trucks are equipped with a tag axel to help distribute the weight of the load to protect roadways and comply with PennDOT regulations. The tag axels have a slight steer capability which allows functionality without interfering with the driver's ability to control the truck up to around 25-degree turns. With sharper turns, not raising the tag axle impairs the driver's ability to safely steer. If the vehicle is prevented from turning properly, this can cause damage to the bushing and bearings in the truck and even the roadway it is traveling on.
Below I highlight PA Code Subchapter 3.4943 which deals with lift-axel positions and explicitly allows for drivers to lift the axel when necessary for turning the truck. All Cabot drivers abide by this code as do Cabot's subcontractors.
PA Code Subchapter 3. 4943:

(e)  Lift-axle position.–

(1)  Except when necessary for turning a truck that is operating under normal load conditions, the lift axle shall be in full contact with the highway under full pressure.

(2)  Any person violating this subsection is guilty of a summary offense and shall, upon conviction, be sentenced to pay a fine of $250.

(June 18, 1980, P.L.229, No.68, eff. 60 days; Oct. 10, 1980, P.L.791, No.147, eff. imd.; July 7, 1983, P.L.32, No.19, eff. imd.; Mar. 21, 1996, P.L.35, No.11, eff. 60 days; Dec. 21, 1998, P.L.1126, No.151, eff. 60 days)
If you look at the pictures in Huston's post, it is clear that the driver leaving the location is presented with a steep turn (around 90-degrees or more ) and needed to keep the tag axel retracted to make the turn safely. Once the driver completed the turn and began traveling up the paved roadway in the picture, he lowered the truck's tag axle.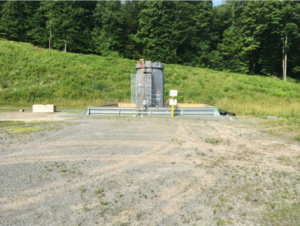 Lastly, Huston indicates he called the Department of Environmental Protection (DEP) to report the spill. On July 5th, the day after his Facebook post, a DEP representative arrived on site at 8:45 am. The report indicates this inspection was in response to a complaint received on 7/4/18 at 4:58 pm.
The inspection report states NOVIO -No Violations Noted and the inspector remarks he "thoroughly checked banks along the edge of pad, along entire length of access road to Costello #2 Pad and wooded area along low side of access road for any evidence of illegal discharge or release run off. No sign of recent release were noted at any areas checked."
The inspection report is publicly available here.
Cabot works hard to meet and exceed all DEP regulations. While inspections are necessary to ensure that oil and natural gas companies are meeting requirements, the lack of violation proved this inspection unnecessary, wasting Commonwealth tax dollars for an out-of-state claim.
As always, Cabot appreciates the opportunity to correct misinformation and educate the public about its operations throughout the United States. You can visit www.cabotog.com/ask-cabot/, to inquire our operations, instead of believing the word of an unreliable source.