This week Cabot employees from the Northeast PA office moved into their brand new 32,000 square foot office building in Montrose Pennsylvania. The new building now has enough space to hold the entire staff instead of spreading them out between several separate buildings. Over the last few years Cabot has been expanding rapidly and the old infrastructure was not able to keep up. Since the last few years have been filled with healthy Marcellus Shale development, Cabot, along with many other Marcellus related companies have had to expand.
Construction on the new office began in 2013 and took less than a year to complete. Today, the new building can accommodate up to 215 Cabot employees whereas one of the old buildings on the same lot was overcrowded, sometimes forcing multiple employees into one office.
The new office is conveniently located right next door to one of the old buildings, which means that the employees got a front row seat to the construction process. Now, with everyone settled into the new office across the parking lot the old building was cleared through demolition to make way more parking space.
It's been less than a week since the move and there is some unpacking to do but most employees are at least somewhat moved-in and enjoying the new space.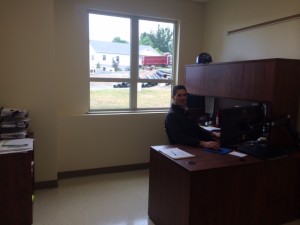 Just one of many the spacious offices

The expansive new office comes equipped with a sparkling full kitchen, a newly updated phone system, faster internet connection, and a state of the art conference room with updated video and internet capabilities. The new conference room is a huge feature, at capacity it can seat 195 people and has two projection screens for large meetings. From an aesthetics standpoint the new building is full of spacious windows and scenic views of the blooming green landscape of Northeast Pennsylvania in June. When employees enter the building they are greeted with a beautiful sun-drenched reception area.
Over the last few years Marcellus Shale industries all along the supply chain have been expanding both their workforce and their infrastructure. Cabot's growth is just one example of this. As long as the environment for oil and gas production does not change too drastically in the near future, this kind of expansion is something that we can expect to continue.