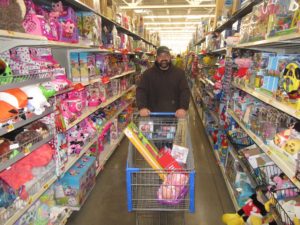 Cabot was excited to help coordinate another annual toy drive benefiting local Interfaith locations to help families in need this Christmas. Read about the effort below:
Guest post by Rick Hiduk – also published in the Rocket-Courier and on www.endlessmtnlifestyles.com)
An unusual shopping trip and an equally unique delivery of toys and winter wear will ensure that children and families in Susquehanna and Wyoming counties have gifts under the tree on Christmas morning this year. For the fifth year, Cabot Oil & Gas has collaborated with partners in the industry, Susquehanna County Interfaith, and Walmart in Tunkhannock for the endeavor. Nearly $17,000 was raised this year to fill wish lists submitted by Interfaith clients.
Representatives from companies who have participated in previous years were invited to accompany Cabot personnel to Walmart on Dec. 6, where they were given gift lists and sent to the toy aisles.
"This is a great way to get them exactly what they want," said Rebecca Peterson of Tioga Environmental Consulting. Company representatives had previously collected gifts or shopped on their own and dropped off their donations at Cabot's offices in Dimock.
"It makes it a little more personal than just handing them a check," Bill Hampton of Sugar Hollow Water Services agreed. "I have a daughter, so I know what the kids are into."
Matt Sheruda of Down Earth Equipment Rental commended Cabot for spearheading the efforts. "It's a great thing that they put some of their resources back to the community, especially for those who aren't as fortunate as we are," Sheruda stated.
"It is a privilege and an honor to team up with our friends at Cabot to make sure every child in need has gifts to open," said Brandon Baudry, northeast regional manager of Fortis Energy Services.
Cabot external affairs coordinator Bill desRosiers credits Interfaith for raising the bar for community service. "They do a terrific job offering programs to help those in need, especially during the holidays," he noted. "Cabot enjoys working with these organizations to make sure that children have toys, games, and clothing, and that their hearts are full and joyous at this time of the year."
While the toy aisles were bustling with activity, Susquehanna County Interfaith executive director Cindy Beeman was filling a cart with coats and boots. "We want to give them something that will keep them warm all winter," she related. More than 1,200 individuals in about 450 families were deemed eligible to receive gifts this year. During a period of open enrollment, parents submit wish lists for their children.
Beeman makes sure that the parents, as well as senior citizens on the Interfaith client list, also get a little something. "For a lot of them, it's the only gift they get," she remarked. "They get a food bag and a small gift bag that includes some puzzle books, a key chain, a hat and homemade scarf, and an ornament for their tree."
Monetary contributions by companies and individuals are still important and play a large part in Interfaith's success at filling wish lists. "After the (open enrollment) program closes, we still get referrals from other agencies of people in crisis," Beeman explained. Also, Interfaith staff checks the wish lists twice and three times if necessary to ensure that every child is getting something they need and something they want. If an item was missed, it can be purchased in time for distribution, which will take place on Thursday, Dec. 20.
After the Cabot trailer at Walmart was filled with toys and clothes, the items were transported first to Cabot, where they were wrapped and then to Montrose United Methodist Church on Dec. 13 by desRosiers and external affairs assistant Bonnie Morris in Santa and elf suits, respectively. At the church, volunteers sorted the gifts, matched them up to client families, and loaded them into large bags with numbered tags. When parents arrive on Dec. 20, they can discretely take the presents home.
"Then, it's all up to them," Beeman related, noting that Interfaith's distribution method differs from some organizations in that the children usually do not know where the gifts are coming from. "We're giving the families that dignity so that they can provide Christmas for their children."
Baudry of Fortis cited Interfaith for developing a program "that brings a message of Christmas hope and love, making a world of difference in the lives of so many children."
In addition to the aforementioned companies, contributors to this year's toy drive included Moody & Associates, Kenworth of PA, JP Reilly Construction, Varsity, Susquehanna Services, United Drilling, Resource Environmental, Superior Energy, Sheffler Company, J & J Field Services, Newpark Resources, Rain for Rent, Foster Energy Services, RLE Enterprises, and Cactus Wellhead.
"We rely on a lot of support from the community to make sure that every child is getting a meaningful gift," said Beeman, expressing her gratitude as well to Cabot Oil & Gas for fostering such great cooperation among the company's energy partners.
"We are always blown away by the generosity of both our employees and contractors during this time of the year and look forward to seeing the partnerships grown into the future," desRosiers responded.
Watch Cabot's holiday commercial here:
Check out some photos from this year's Toy Drive below: