Cabot was proud and honored to be awarded the "E&P Company of the Year" award at the 6th Annual Northeast Oil & Gas Awards on March 14th, 2019.
The Oil and Gas Awards are a platform for the Industry to demonstrate and celebrate the advances made in the key areas of environmental stewardship, efficiency, innovation, corporate social responsibility, and health & safety.
The "E&P Company of the Year Award" recognizes a standout operator that has demonstrated impressive performance including operational excellence, efforts to manage the professional development of its staff, efforts to minimize environmental impact, and a clear commitment to corporate social responsibility and/or community engagement.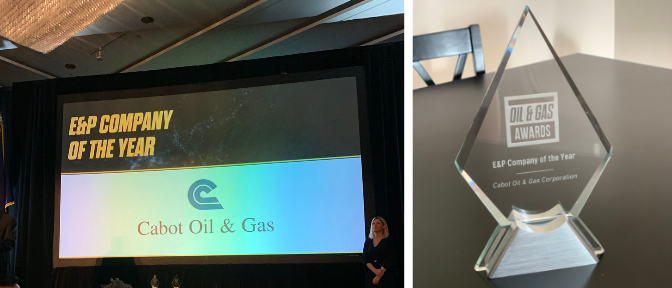 The nominees are voted on by a Judging Panel, which can be found here.
For this award, Cabot was up against Antero Resources and EQT. We were honored with the same award at the 1st annual Oil & Gas Awards in 2012, making Cabot the only company to win the "E&P Company of the Year" award twice.
For the full list of winners for all 15 categories, click here.
This slideshow requires JavaScript.