Water use is a key component in any type of energy production from to wind, coal, solar or natural gas. The fluid used in hydraulic fracturing operations is 99.5 percent water and sand. On average a well requires around 4 million gallons of fresh water to complete the drilling process.
Comparing water consumption
How much is 4 million gallons?
The average well operation uses around four million gallons of water from start to finish. To put this into perspective the following infographics composed by Energy In Depth and State Impact shows what other industries can do with four million gallons of fresh water.
There are almost 16,000 golf courses across the U.S. together they could completely cover the state of Delaware. In order to keep the "greens" green they require a lot of water. The average golf course uses 312,000 gallons of water per day. However, courses in warmer and dryer, desert conditions require more water. Palm Springs alone contains 57 golf courses, all of which must fight the heat to stay green. The average course in that type of environment must consume around 1 million gallons of water per day.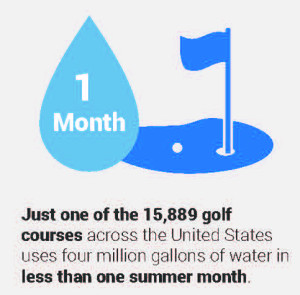 Residential Swimming Pools
In the U.S. alone there are approximately 10.4 million residential swimming pools. The average pool contains 19,000 gallons of water. When left uncovered pool water evaporates at a rate of around 1,000 gallons per month. Over the course of the year, the average pool loses over 30,000 gallons of water. So, in total residential pools alone account for 509.6 million gallons of water.