The Potential Gas Committee (PGC) released this week the results of its latest biennial assessment of the national natural gas resources, which indicates that the United States possesses a total technically recoverable resource base of 2,515 trillion cubic feet (Tcf) as of year-end 2014. This is the highest resource evaluation in the Committee's 50-year history, exceeding the previous high assessment (from 2012) by 131 Tcf.
The PGC's assessment reaffirms the Committee's conviction that abundant, recoverable natural gas resources exist within our borders, both onshore and offshore, and in all types of reservoirs – from conventional, 'tight' and shales, to coals
-Dr. John B. Curtis, Director of the Potential Gas Agency at the Colorado School of Mines.
The evaluation not only paints a robust picture for the future of our nation's gas supply, but it will also open up more job opportunities for workers, provide people with more financial benefits, and will pave way for a significant boost in the prosperity of our economy.
According to the Potential Gas Committee, the increase arose from reevaluations of shale gas resources in the Atlantic, Mid-Continent, Gulf Coast and Rocky Mountain areas, and conventional/tight gas resources in the Mid-Continent and Rockies. The chart below shows the 2014 assessment of U.S traditional and U.S Coalbed resources in terms of region. The Atlantic area ranked again as the country's richest resource area with 35% of total U.S Traditional resources, followed by the Gulf Coast (including the Gulf of Mexico) with 23%, Rocky Mountains with 18%, and the Mid-Continent with 12.5%.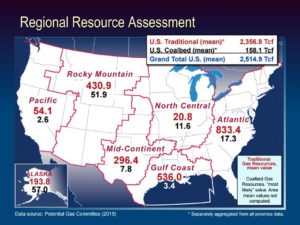 The figure below shows that when the PGC's assessments of technically recoverable resources are combined with the U.S. Department of Energy's latest available determination of proved reserves, 338 Tcf (dry gas) as of year-end 2013, the U.S. has a total available future supply of 2,853 TcF, an increase of 161 Tcf over the previous evaluation.
The PGC's report also assessed potential gas resources in three categories of decreasing geological certainty – Probable, Possibly, and Speculative. The chart below depicts the Traditional and Coalbed Gas resource comparison by region. The assessment observed shallow reservoirs, deep reservoirs, coalbed gas resources, and offshore traditional resources of all water depths.
The committee believes that the individual province-level assessment results offer the greatest value for purposes of analysis, planning, and exploration. Dr. Curtis cautioned, however, that the current assessment assumes neither a time schedule nor a specific market price for the discovery and production of future gas supply. "Assessments of the Potential Gas Committee represent our best understanding of the geological endowment of the technically recoverable natural gas resource of the United States," he explained.
To help put all of this information into perspective, Marcellus Shale Coalition president David Spigelmyer, issued a statement on the release of the Potential Gas Committee's assessment:
Thanks to shale, the U.S. has rapidly transformed from a nation preparing to import natural gas to meet our domestic needs to one that now leads the world in natural gas production. This report should serve as a reminder to policymakers that we should pursue commonsense solutions aimed at further leveraging our own energy reserves to create even more good-paying jobs, especially across our manufacturing sector.
According to Spigelmyer, smart policies that encourage – rather than discourage – expanded natural gas production and use will also continue to benefit each and every American consumer. "Stable supplies of affordable, domestically-produced natural gas have been an economic shot in the arm during one of the most financially challenging periods in a century, particularly for low-income families who's disposable incomes are spent heavily on energy and home-heating costs," he said.
We have a historic and generational opportunity to reignite America's economic engine and to further enhance our environment through utilizing more of our domestic and abundant natural gas resources.