Expanding the current natural gas infrastructure in this country is important for several reasons, and we've covered this topic before.
But the past few weeks have continued to illustrate its importance – including recent letters of support for the PennEast Pipeline project from both the The Back Mountain and Greater Wilkes-Barre chambers of commerce. The Times Leader reported on the two letters of support sent by the chambers to Federal Energy Regulatory Commission (FERC) in March. Also included in the article are the full letters submitted. Both chambers site the growth of businesses in their area thanks to the natural gas industry. And both discuss the new projects surrounding electric generation projects in their area.
One example of a new project – of which there are several in the region estimated to bring hundreds millions of dollars in investment to the area – is the Moxie Freedom Power Generation Plant which will produce enough electricity to power 900,000 homes. As the Citizen's Voice noted in their article about the groundbreaking of the project, the natural gas which will be used to power the plant is coming directly from the Marcellus Shale gas produced by Cabot in Susquehanna County.
Increased use of natural gas in electric generation
But beyond simply the capability to build these new natural gas-fired electric generation plants is the need from a demand side.
Just one week ago the U.S. Energy Information Administration (EIA) reported that 2016 will be the first year that natural gas will exceed  coal in producing electricity on an annual basis. This is big news. You might remember the announcement almost one year ago in April 2015 that natural gas would surpass coal on a monthly basis. The trend has continued and EIA's 2016 forecast has natural gas generating 33% of U.S. electric generation compared to coal's estimated 32%.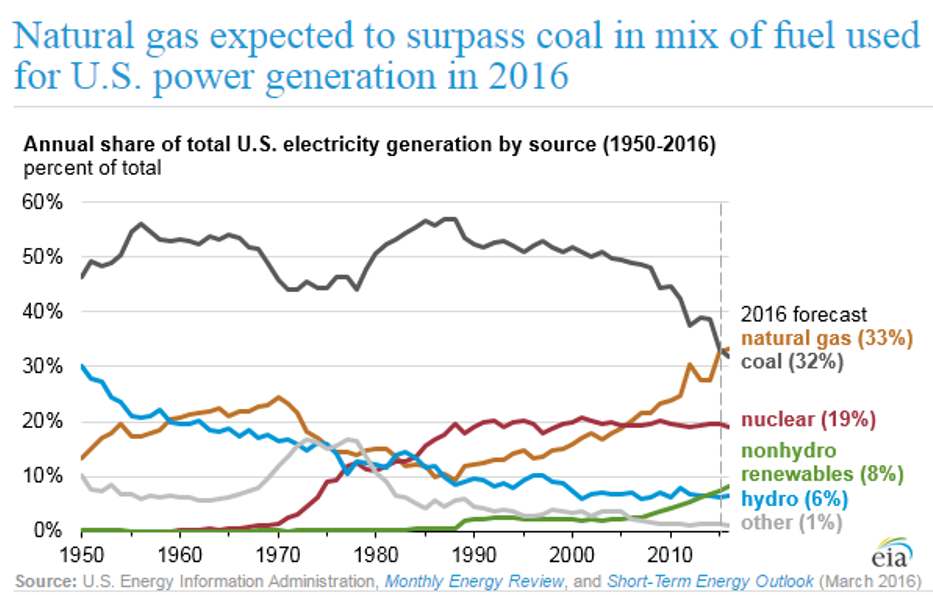 So not only will the general demand for electricity in the United States continue to increase, but the percentage of electricity generated by natural gas is also going to increase. Building out infrastructure to meet these needs sure seems like a no-brainer.
Let's recap the benefits of expanding natural gas infrastructure:
Increased economic development opportunities for businesses switching to burning natural gas or locating in areas with natural gas

We actually just shared the great news about the Diaz Manufacturing expansion in Susquehanna County thanks to new infrastructure

Ability to attract businesses from other areas or to attract new businesses to set up shop near pipeline access
Conversion of old coal-fired electric generation plants to natural gas with access to pipelines
Placement of new natural gas-fired plants to meet the increasing electric demand