Spring has finally sprung! With warm weather around the corner, many folks will be gearing up for landscaping, outdoor projects, and home improvement around the house. If you have any spring plans that may involve digging such as building a porch, installing a new mailbox, or even planting a tree, 811 is the number you should call before you begin any digging project.


Beneath many homes and properties there are a variety of underground pipelines. Pipelines can carry more than just natural gas. There can be a combination of water lines, crude oil lines, or propane lines underneath your property.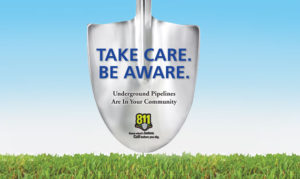 Knowing where underground utility lines are buried before you dig can help protect you from injury and prevent damages to utilities, service disruptions and potential fines and repair costs. Whether you're planting a tree or shrub, or installing a deck or pool, every job requires a call.
Calling 811 before every digging job gets your underground utility lines marked for free and helps prevent undesired consequences.
Making the call is simple and easy! When you dial 811 you will be forwarded to the One Call Center in your area. An operator will ask to receive information about your digging project such as the location, type of project, and planned date. The operator will then notify the utility company in your area about your digging plans.
Once your utility company is notified about the project, they will bring in a professional crew to both locate and mark the pipelines on your property. Once the pipelines on your property are accurately marked, the professional will give you the go ahead on whether or not it is safe to dig.
The 811 campaign was created by an organization known as the Common Ground Alliance (CGA), the leading association devoted to preventing damage to underground utility infrastructure and ensuring public safety and environmental protection.
For more information about calling 811 before you dig, visit call811.com. You can also check out the video we included below created by Orange and Rockland with additional information on how 811 works and what you can do to keep you and your family safe.