My favorite part about the 4th of July is celebrating with my friends and family doing things outside. Youmay not think about it, but most of the goods needed for a 4th of July cookout are products of natural gas extracted right here in Pennsylvania. So this 4th of July when you're out enjoying the holiday, just remember to thank natural gas for the various products shown below: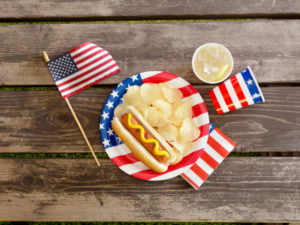 Awnings – Awning fabrics can be coated with vinyl. The vinyl laminated material is then stretched tightly over a light structure of aluminium, iron or steel, possibly wood or transparent material. Vinyl is composed of two simple building blocks: chlorine, based on common salt, and ethylene, from natural gas.
Plastic Cups –Plastics are derived from organic products like natural gas. The materials used in the production of plastics are natural products such as cellulose, coal, crude oil, salt and, of course, natural gas.  Next time you drink out of a plastic cup or use anything made out of plastic, remember to thank natural gas.
Cameras – If you want to take lots of pictures this 4th of July, you're in luck, because cameras are made using natural gas. The camera body and back cover are made of a polycarbonate compound, which is a byproduct of natural gas. The polycarbonate is molded to very specific tolerances because the internal workings of the camera must fit precisely so that it can fit together with the other parts of the camera.
Coolers – Coolers can be a life saver to keep their drinks cold during outdoor events and cookouts, especially this summer. Plastic coolers are made of plastic with polypropylene in it, which, you guessed it, is a byproduct of natural gas.
Insect repellent – Various petroleum chemicals, such as ethylene, propylene, and methane, are the source of many of the everyday insect repellents you might use while outdoors. Outside of the chemical composition itself, the heating, distillation, stirring, and drying processes in manufacture also use electricity, natural gas, steam, and additional petroleum sources.
Loudspeakers – The cones used in loudspeaker diaphragm is commonly used with the synthetic fiber called Kevlar, which is a byproduct of natural gas.
Grills – A by product of natural gas is propane which is commonly used in gas grills for cookouts. Without propane, you wouldn't be able to cook your favorite meals on the grill outside, especially during the 4th of July. If you're not using a propane grill, but a charcoal grill instead, you still need natural gas to help you out. The lighter you're using to light your charcoal grill has butane in it, which is a byproduct of natural gas, as well.
Swimming pools – If this 4th of July is hot you may want to take a quick dip in a swimming pool. Many types of plastics and other products needed to build a swimming pool are made with natural gas. For example, the pool liner and the plastic coating on the walls of the pool are two products of natural gas.