Last week, I had the opportunity to travel to my company's regional headquarters in Tunkhannock.  My company is a services company for the oil and gas industry.  Specifically, we are a fluid management and well site service organization working with industry leaders such as Cabot Oil & Gas, Williams and Hess among other companies.  I am the marketing manager for SRWR, and while I have been on various drilling and fracking sites before, I have not been able to be up close the action in many cases.  Needless to say, I was excited about the opportunity to finally head up to the NEPA area, which in some ways can be considered "ground zero" for the Marcellus Shale play.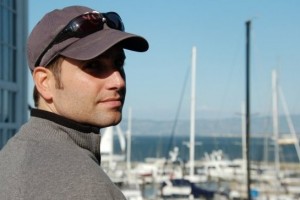 Upon arriving in the area, one is immediately struck by the amount of activity.  New hotels, new restaurants, updated EMS buildings and new fire halls and much more.  In fact, I was unable to secure a room in the small town of Tunkhannock, both of the new hotels were booked solid and I was forced to stay about 15 miles away.
My first day was spent with a fellow SRWR employee viewing our facilities in the area and seeing active fracking jobs among other things.  I was struck by the amount of regulation and oversight that is already in place.  This is something perhaps the general public doesn't understand.  Again, while I knew these rules and regulations were in place, it was different to see things up close and firsthand.  For example, the spots where fresh water is withdrawn for industry use.  It is not simply throwing a hose in the stream, river or pond and taking as much freshwater as is available.  The site has a full time person actively monitoring withdrawals on site and strict limits are set and enforced by regulatory commissions with computers on site that record each bit of water withdrawn from the site.  It may be an overall simple process, but it highly monitored and regulated, which is not always understood by folks outside of the industry.
The employee that I was with happened to be born and raised in the Tunkhannock area, so I took the opportunity to ask him what he has seen happen to his hometown and what his thoughts on the industry were.  He said that to him personally, the natural gas industry had provided several jobs and kept him in the area with a good living wage.  He mentioned his friends had jobs in the industry and relatives that had leased land and purchased new farm equipment with the proceeds.  Overall, he felt the majority of local residents had good feelings for the natural gas boom that had come to their area.  While traffic and some noise can be a temporary issue that upsets some local residents, he believes 99% of the local population supports the growth whole-heartedly.
I was excited that my second day in NEPA would put me in touch with Cabot Oil & Gas Corporation, one of SRWR's leading clients and the top producing natural gas company in the Marcellus Shale play.  Several of their wells are in the Top 10 producers for the state of Pennsylvania, and I was looking forward to my trip to see and tour an active drilling rig.  I met up with William desRosiers, External Affairs Coordinator for Cabot, in the Dimock area.
Upon arrival, desRosiers told me we would be taking his CNG powered truck for a fill-up, something I was very happy to experience firsthand.  The truck ran the same as any other, the process to fill it up with CNG was almost the same as filling with gasoline (CNG filled up faster), it burns much more cleanly and the price was absolutely right, coming out to $1.00 when compared to a gallon of gasoline!  I hope we begin to see many more of these vehicles on the roads soon, especially in Pennsylvania, Ohio, New York and West Virginia, where we are sitting on this valuable resource that can power us for years to come.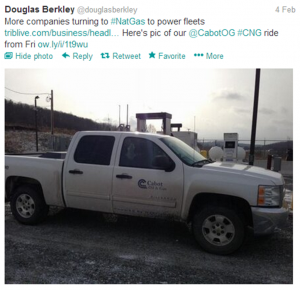 After filling up, we headed to Cabot's Bray site, where a drilling rig was actively working on a series of wells.  The hilly terrain of the area was hiding the rig, but after going down a series of rural roads, the site became visible on a local hillside.  It was an amazing sight; all the activity located on what is essentially one drill pad blending in with the countryside.  We proceeded to take a tour of the entire structure and meet several of the crew members on the site.  It was a great mix of locals and a few out of town employees.  It's truly an impressive scene, and I would urge anyone that has a chance for this type of tour to take it.  Again, the safety processes were more than I even imagined and I am in the industry.  The general public needs to learn more about these processes and what actually occurs on these sites and within the industry.

My trip to the NEPA area showed me how dynamic this industry can be and the amount of activity that is occurring in these regions…it is tremendous.  I was pleasantly surprised to see safety standards above and beyond what I thought existed, happy to hear about the jobs and prosperity created in areas that needed help, and I was proud to see things just being done "right" by the industry of which I am part.