The Constitution Pipeline has just announced the awarding of $350,000 to community organizations in the NY and northeastern Pennsylvania area. To date, Constitution Pipeline has distributed more than $1 million in funding. As you may remember, the Constitution Pipeline is a partnership between Cabot, Williams and other companies to move gas produced in Susquehanna County to new markets.
Three recipients of the latest round of funds are right here in Susquehanna County:
Susquehanna County Free Library Association – Computers for the library. Grant award: $20,000.
Harford Volunteer Fire Company Ambulance  – Ambulance 5 Replacement Project. Grant award: $25,000.
Montrose Minute Men Inc. – Provide a Polaris Brutus to deliver emergency medical services to citizens of Susquehanna County. Grant award: $23,258.
New computers at Susquehanna County Library
We spoke with Susan Stone, Administrator of the Library to learn more about the computer project and what it means for residents.
We are very excited. This will be a great opportunity for us and we are thrilled to have been selected by Constitution Pipeline.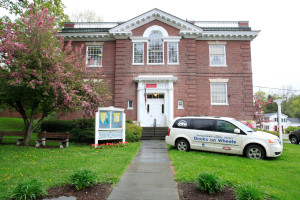 The plan is to purchase 40 new computers which will replace the ones currently in use at t he four different Susquehanna County Library locations – Montrose, Forest City, Hallstead and Susquehanna. The current computers are about nine years old an in desperate need of an upgrade since the software will no longer be supported.
The Library hopes to begin purchasing the computers as soon as possible with the aim to have them all in position in a couple of months.
The computers are used by the public for everything from job searches to personal email to checking work schedules. The newer machines will have upgraded versions of the current applications installed to maintain their functionality.
How to apply for future community grants
The deadline for the next round of grants is April 15, 2014 – so make sure you get your submissions in. Guidelines and applications for the program are available on the Constitution Pipeline website.
Projects funded by the Constitution Pipeline Community Grant Program should provide community benefits, such as:
Emergency/first responder support
Youth or senior services
Education programs
Economic development
Enhancement of open spaces and park land for recreational enjoyment
Assistance in the enrichment of wildlife habitat
Promotion of environmental education
Purchases of property for preservation of wetlands and wildlife habitat
Purchases of property to access public lands, water resources, scenic and wildlife views, and for enhancement or development of active recreational areas
Hurry, the deadline is quickly approaching!