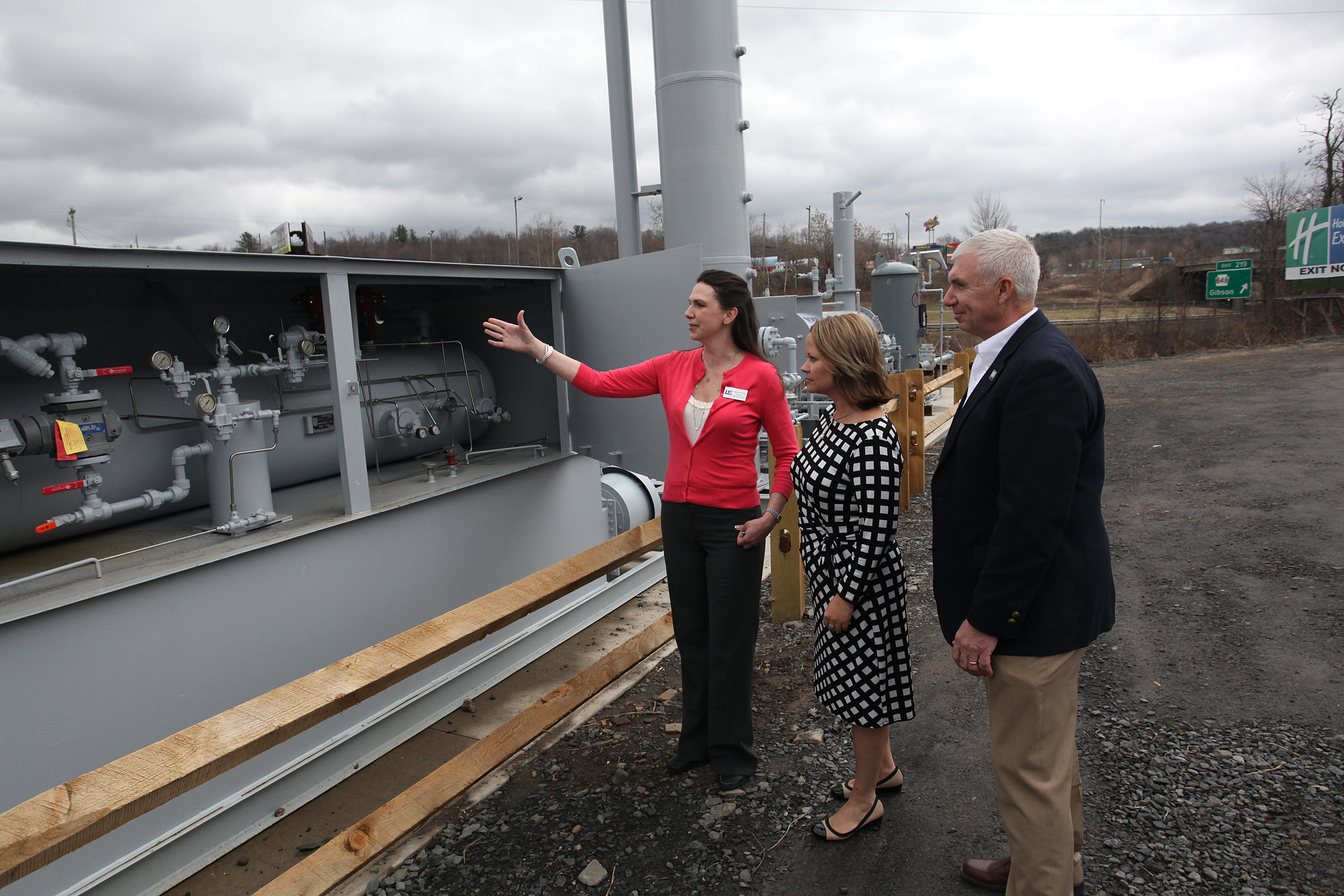 PA Workforce Investment Board Announces $150,000 Tech Grant for Lackawanna College School of PNG
This past Friday, Lackawanna College hosted an open house at its School of Petroleum & Natural Gas. In attendance were school administrators and teachers from a number of Northeast Pennsylvania counties, as well as, regional business leaders. The program featured a tour of the school's facilities and an address by Pennsylvania Workforce Investment Board Director, Stephanie Larkin.
Director Larkin focused her remarks on the significant impact Marcellus Shale development is having on Pennsylvania's current workforce. Here are some of key takeaways from Director Larkin's comments during the event:
Over the last four years (2010Q3 to 2014Q4), employment in Marcellus Shale related core industries increased by 83.2%.

Core industries are: Crude Petroleum and Natural Gas Extraction, Natural Gas Liquid Extraction, Drilling Oil & Gas Wells, Support Activities for Oil & Gas Operations, Oil & Gas Pipeline and Related Structures construction, Pipeline Transportation of Natural Gas.

Over the same period, employment in the Marcellus Shale Related Ancillary industries was up 6.8%.
Employment across all Pennsylvania industries increased 3.3% over the same time period.
960 establishments were added (331 core, 629 ancillary) 0 this represented 39.7% growth in the core industries and 5.1% growth in the ancillary industries; over the same time period, PA experienced 3.0% growth (10,085) for all industries.
The average wage across all industries was about $50,100, and the average wage in the MS core industries was about $94,000 which was approximately $43,900 greater than the average for all industries.
The average wage in the ancillary industries was about $66,500, which was approximately $16,400 greater than the average for all industries.
To finish her presentation, Director Larkin announced that the School of PNG will be awarded a $150,000 tech grant from the PA Department of Labor & Industry to facilitate the acquisition of a start-of-the-art well control simulator from Check-6 known as the Well Control VI Training System.
Jason McAlister, Vice President of Operations for Check-6 Training Systems commented about the announcement of the grant (via email):
"This innovative, hands-on training system is playing a critical role in sustaining competency in today's oilfield, and will prepare the petroleum and natural gas students for their future careers and real-world well control situations in the Marcellus, and around the world." He further detailed that the $150,000 grant would be matched by a "$250,000 in-kind gift from Check-6 to deploy two Well Control VI workstations, as well as a 60-inch, high-definition touch screen monitor at the front of the classroom."
Here is a demo of the Well Control Simulator from Check-6:
The Check-6 Well Control VI Training system won't just benefit students currently enrolled in the program, it will benefit all of the drilling professionals in the greater Appalachian basin, too. George Stark, External Affairs Director for Cabot Oil & Gas Corporation, said about the simulator:
"When ready, companies in northeastern Pennsylvania, western Pennsylvania, Ohio and even West Virginia won't have to send employees to Texas to get certification. We want to see this be the place that they send their workers to get re-certified, again, rather than having to send them down to the Gulf."
The event at Lackawanna College School of PNG was well covered by regional media. Here are some of stories from the event:
The following two tabs change content below.
Raised in Highland Falls, New York, William desRosiers learned about responsible resource development, firsthand, as a part of his family's mining business. William received his B.S. in Management, B.A.in History and MBA from Misericordia University. He currently serves in External Affairs for Cabot Oil & Gas Corporation. His primary responsibilities include strengthening media relationships, managing company-run fundraising programs, building better community relations and representing Cabot every chance he has.
Latest posts by Bill desRosiers (see all)