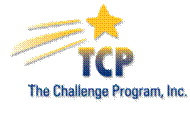 Companies often reward their employees with a job performance bonus for going above and beyond — so does The Challenge Program, Inc. When sophomores, juniors and seniors rise to the top of their class in one of the program's four award categories (Attendance, Academic Improvement, Academic Excellence, and Community Service), they are awarded a check of $250. The Challenge Program, a non-profit organization, is currently active in 116 high schools, career centers and technology centers in Pennsylvania, West Virginia, and Ohio.

Cabot is a proud sponsor of the Challenge Program at Susquehanna County Career and Technology Center.
We asked Tim Malloy for some background on the The Challenge Program and a to answer a few questions:
Are you the only person that tweets? Are the posts contributed by anyone else?
The Challenge Program's intern posts most of our tweets as well as TCP staff.
How long have you been tweeting?
Tweeting is new to The Challenge Program. We understand the role social media plays in the marketing and education of our program. We view Twitter as an important tool in helping us to reach more businesses and individuals, because then we can reach more students. We also believe this will be a way to keep the program "in front of" students during the year so they are encouraged to keep achieving more.
How do you find and manage the content that you post on your Twitter page?
Just yesterday, a story shared on Linkedin, revealed that Google was ranked #1 on Fortune Magazine's Best Places to Work For. Google Pittsburgh is a sponsor of The Challenge Program; we were very happy for them and shared the news through social media. Most of our content is taken from news of the program as well as sharing stories which relate to high school students regarding education, job opportunities and community service opportunities.
How do you hope Twitter will help spread your mission and raise awareness of The Challenge Program?
The Challenge Program is in high demand with 70+ high schools on a waiting list to come on-board. We want potential business sponsors to be aware of us so that we can eventually expand into a national program.   Students need to know that there are people, companies and organizations dedicated to their success. Businesses need to know that The Challenge Program serves as a resource to their workforce development and community outreach.  Twitter raises awareness of both of these factors.
With $2,000,000+ awarded to students, it's inevitable that there have been many lives changed. Have there been any particularly notable success stories with students you've helped?
There are many student success stories.  Each spring, The Challenge Program holds a Community Partner Award Dinner to honor a business sponsor and to recognize an educator and a student. This year, we will be honoring  Brieanna, a junior from the Connellsville Area Career & Technical Center as our Student of the Year. Brieanna resides in a homeless shelter, however, she has not allowed that to limit her goals for the future. She is an outstanding student who is enrolled in the Protective Services trade at the CTC. Her goal is to become a pediatric nurse. A local hospital volunteer, this past year, Brieanna earned the program's Community Service award.
As a result of the program, we have seen 2.0 GPA's become 4.0 GPA's and perfect attendance rates doubling in schools.  Students have gone on to begin their own non-profit start-up organizations and start their own businesses. These students and so many more inspire The Challenge Program every day to reach more schools and to impact more lives.  Social media allows us to share these stories with the public.